It's true… puzzles are good for you!
In celebration of National Puzzle Day, we're here to talk about puzzles and why they're great for your mental health.
As well as being a fun and creative activity, doing puzzles is good for you – it's official! They can help with many aspects of your mental and emotional wellbeing. Read on to discover the key benefits of solving puzzles.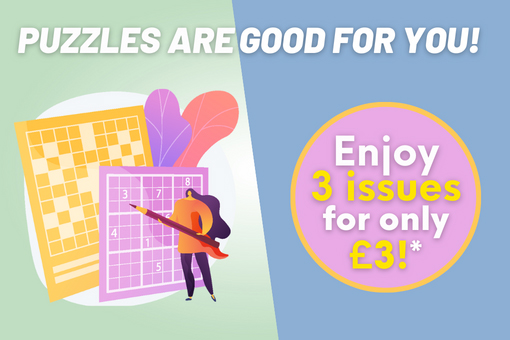 The benefits of puzzling
Increases mindfulness and relieves anxiety and stress 🧘
Stress and anxiety can be caused by many things, and puzzles are great way to relieve them. Taking little breaks and focusing on completing an absorbing puzzle can help you feel happier and calmer.

Vocabulary booster (for wordies) 📚
Word puzzles can help to build your vocabulary. By completing word puzzles, you're digging deep to remember words that you know (but may not have used for a while!) and you might look them up if you don't know them yet, which overall leads to a boost in your vocabulary.

Increases focus and preserves memory 🧠
Exercising your brain by completing a puzzle can help enhance your executive function by keeping your brain busy and sharp, especially as you get older. This can be improved even further by increasing the difficulty level of a puzzle and timing yourself.

Social and fun 👪
Even though it's enjoyable to complete a puzzle on your own, some are fun to solve with friends and family to build connections through conversation. This social aspect can improve your quality of life, and lift the spirits!

Puzzles are an affordable hobby! ✏️
There's no need to invest in loads of equipment to start puzzling – all you need is a pen or pencil (and possibly an eraser!). Puzzles are a really good form of low-cost entertainment, and you can start solving very easily today.

Ready to start puzzling? Try 3 issues for £3!*
Sorry – this offer is now closed. But you can still take advantage of all the benefits we've mentioned above and make savings on the cover price.

As a subscriber, you can enjoy a brand-new issue delivered straight to your door every month, plus free UK delivery. Join us today! Take a look at our fabulous range of puzzle magazines...

*Terms and conditions: 3 issues for £3 is a UK Direct Debit offer for new subscribers only. Offer closes: 19 February 2023.