Puzzler Wordsearch – Meet The Editor
Meet Jo, the editor of Puzzler Wordsearch

Jo gives us some insight into what it's like to be the editor of this fun-filled magazine, and what to expect from upcoming issues!
Being the editor of Puzzler Wordsearch must be a fun job! What is it about wordsearch puzzles that you find enjoyable?
I've loved wordsearches from an early age. My grandmother introduced them to me when I was about seven. As I grew up, my interest and enjoyment of them also grew. So you could say they've always been a part of my life.
My love of wordsearches helped improve my vocabulary and spelling. I remember being rather proud when I received an award for spelling in the fourth year. I was known at home as the family spell checker! My father (who wasn't a puzzler) used to ring home from work asking, 'Jo, how do you spell this word?' These were the days before the internet and Google!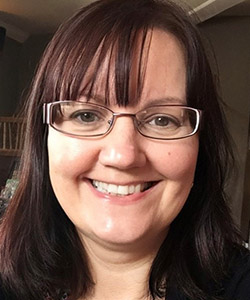 At the moment, I like that fact that wordsearches help me escape from my mobile phone. They take me away from the regular worries and stresses of life and help me enjoy a healthier, more relaxed mindset. Also, when you manage to solve a wordsearch puzzle in a decent time, it gives you a great feeling of accomplishment. And we all need a bit of the feel-good factor in our lives!
As an editor, I love researching new topics and using the words I find to make up brand-new puzzles. I'm always looking for innovative ideas to keep the magazine feeling fresh and current.
What makes Puzzler Wordsearch stand out from the crowd?
Apart from the vast variety of themes covered, I think it must be value for money. We have 188 puzzles in every issue, so there is plenty to keep you busy for the whole month. As well as our straightforward puzzles, we have trails, quizzes, brainteasers, shaped puzzles, and our popular hide-and-seek puzzles (you solve the puzzle and a quotation is revealed). I've also introduced false-trail puzzles to add an extra element of fun.
You say each issue features a whopping 188 puzzles. How are these created?
We do have a technical helping hand, but the word lists and themes are all conjured up by a human – in this case, me! I think the fact that we have a lot of human input in Puzzler Wordsearch makes the magazine more modern and interesting for the reader. I also make sure we don't repeat themes very often – no one wants to see a puzzle all about cats in every issue. Unless you are a cat, of course!
Why subscribe to Puzzler Wordsearch?
Who wants to trudge to the shops using up petrol, energy and time when you can sit back and relax as every issue comes through your door? Taking out a subscription also means you never miss an issue. There's nothing worse than going to the shops to buy an issue and finding they've all sold out. Plus, every issue is delivered FREE! Make sure you check out the subscriptions part of our website for some amazing offers.
Special introductory offer: Try 3 issues for just £3!*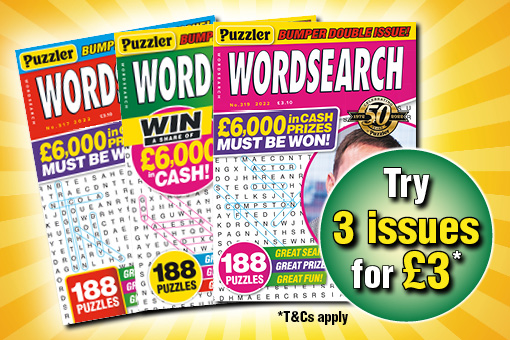 Sorry – the special introductory offer is now closed but you can still SAVE up to 15% on this fabulous magazine!
Six great reasons to subscribe to Puzzler Wordsearch:
🌞 Enjoy an assortment of 188 puzzles
🌞 Try 3 issues for £3, the price of a coffee!
🌞 Save over 65%*
🌞 Never miss an issue
🌞 FREE UK delivery, direct to your door
🌞 Money-back guarantee on any unsent issues
*Terms and conditions: 3 issues of Puzzler Wordsearch magazine for £3 is a UK Direct Debit offer for new subscribers only. Pay £3 for 3 issues (saving over 65%) with Direct Debit, then an ongoing rate of £17.80 every 6 issues, saving 10%. Full 14-issue UK annual rate: £46.20. Offer closes: 31 July 2022.