Q Coffee-Break Crosswords – Meet The Editor
Meet Zeena, the editor of Q Coffee-Break Crosswords

The editor of Q Coffee-Break Crosswords magazine, Zeena, explains what it's like to be the editor of this top-quality crosswords magazine, and passes on some insider tips. And don't miss our fabulous subscription offer below to try 3 issues for £3!*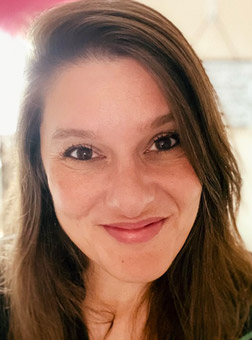 Being the editor of Q Coffee-Break Crosswords must be an exciting job! What is it about crossword puzzles that you love most?
I've been a journalist for 25 years and have always loved working with words. A single word has the potential to evoke any sort of emotion, from inspiration and education to melancholy and love. Since starting as the editor of Q Coffee-Break, I've really learnt how much power a single word can have and I enjoy this aspect of my job immensely. I work hard to create crosswords with many words that bring joy or stimulus, as I think there's more to puzzles than the simple satisfaction of completing one.
Do you have any tips or advice for puzzle fans that are new to Q Coffee-Break Crosswords?
When I'm doing crosswords, I like to read through all the clues first before filling in with a pencil the answers I feel most confident about. I then tackle the trickier ones with, hopefully, a few letters to help. It's also worth making sure you've read the clue correctly! It might sound obvious, but it's actually very easy to interpret a clue wrongly because you've misread it – especially if a word in that clue has more than one meaning. My biggest tip though, is to enjoy it! Crosswords have been scientifically proven to be mindful as well brain sharpening, so approaching them as such means you'll get the maximum enjoyment from your Q Coffee-Break.
Why do you recommend that readers subscribe?
I think it's safe to say many of us came to realise from the pandemic and subsequent lockdowns, the importance of taking time for yourself – especially for the sake of your mental health. Subscribing to Q Coffee-Break is a means of ensuring that there's something entirely for you, delivered for FREE, to look forward to every month. It's like a little act of self-care you deserve. Our very special offer of 3 issues for just £3* below is an unmissable opportunity to trial the benefits of subscribing and the pleasure of Q Coffee-Break Crosswords.
Apart from puzzles, what do you like to do in your spare time?
As well being a journalist and an editor, I'm an author. I'm currently writing my fourth non-fiction and my latest book, 'How to Find Your Mental Strength', published by Summersdale, is due out on 12 May. Aside from writing, I'm also a lover of stand-up comedy, reading, television, Indian food and red wine. In fact, pair any of the first four with the latter and I'm in my happy place. As the mother of two primary school kids, I cannot lie: there are days when a crossword and a red wine are often the holy grail!
Special introductory offer: Try 3 issues for just £3!*

Five great reasons to subscribe to Q Coffee-Break Crosswords:
🍏 Enjoy an assortment of over 150 cracking crossword puzzles
🍎 Try 3 issues for £3, saving over 65%*
🍏 Never miss an issue
🍎 FREE UK delivery, direct to your door
🍏 Money-back guarantee on any unsent issues
To enjoy 3 issues for £3*, use promo code MTECB before adding the magazine to your basket.
Hurry – offer ends 31 May 2022!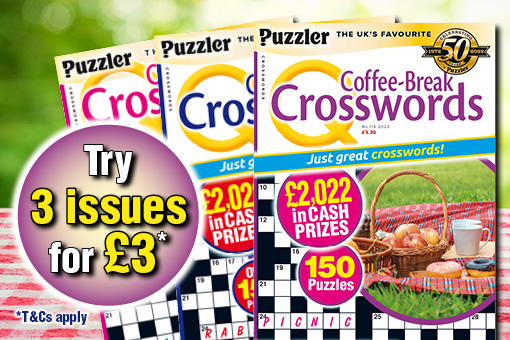 *Terms and conditions: 3 issues of Q Coffee-Break Crosswords for £3 is a UK Direct Debit offer for new subscribers only. Pay £3 for 3 issues (saving over 65%) with Direct Debit, then an ongoing rate of £17.25 every 6 issues, saving 10%. Full 13-issue UK annual rate: £41.60. Offer closes: 31 May 2022.