Puzzling that's far from ordinary
Explore our world of fascinating puzzles dedicated to the logical solver!
FREE puzzles and TRY 3 magazine issues FOR JUST £3!*
On the further edges of the logic puzzle galaxy is a dazzling variety of puzzles that though perhaps less familiar, are none the less as absorbing as Sudoku and the traditional logic problem. Many of these feature in Beyond Sudoku magazine, with its ever-evolving line-up of fascinating puzzles. Others are the star of their own magazine: Hanjie, Kakuro and Super Hanjie.

Explore these four fantastic magazines by checking out the FREE sample puzzles below before taking advantage of our amazing trial subscription offer – 3 issues for just £3* with the promo code LOVELOGIC.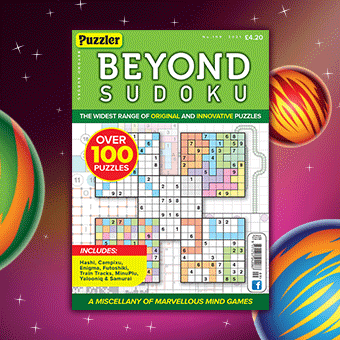 Follow the blue links below to click through to our Puzzles A-Z pages to see solving instructions, example puzzles and online tutorials. They are an invaluable resource for puzzlers new and experienced!

Beyond Sudoku
For lovers of logic, Beyond Sudoku magazine features an inspirational range of fascinating puzzles. Each issue contains Mosaic, Enigma, Battleships, Stars, Labyrinth, Killershiki, Suguru, Nurikabe, Campixu, Hanjie, and more!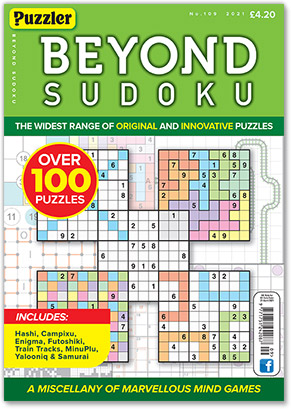 The Editor says:
I've been a dedicated fan of a wide variety of puzzles since I was a child. So, if you're anything like me, you've come to the right place. We've all sorts here: path-based puzzles like
Enigma
, or number sequences to be spotted in
Futoshiki
. Then there's
Suguru
, a case of, 'Where can't this number go?' rather than 'Where can it go?' For another type of mental challenge, there's the clever little puzzle
Endview
. Pick up a pencil, take a few moments for yourself, and delve into the wonderful world of
Beyond Sudoku
with our free sample puzzles below!
A customer says:
These puzzles are great! An amazing selection. Lots of other books offer just Sudoku puzzles – this has all sorts of logic puzzles. I've subscribed for a few years now, and get so excited when the new one comes through the door! I have to be restrained and just do a few each day.
Try these FREE sample puzzles of Beyond Sudoku.
Simply download and print!


Your Free Puzzles
Hanjie
For methodical minds, Hanjie is an absorbing and rewarding puzzle. You have both the satisfaction of successfully solving a purely logical puzzle, and the pleasure of seeing a pixelated picture form before your eyes as the squares of a grid are filled in. Deducing the location of shaded squares is prompted by the number clues around the grid, hence the puzzle's description as a form of 'painting by numbers'.
The Editor says:
We're beginning to get a distinct feeling that Hanjie magazine has got something! Now in its 21st year, the magazine has attracted a dedicated following of loyal readers who enjoy applying their brains to creating pixelated pictures from just a few numbers.
All you have to do is decide whether each square in a grid is to be filled in or left empty. But there is no guesswork – just the application of simple, straightforward logic, looking at just one line at a time. The puzzles are top-of-the-range and sold worldwide, and come in a variety of difficulty levels – so there is something for everyone.
Solving Hanjie puzzles will keep your brain active and sharpen up your thinking. On our Puzzles A-Z page you'll find solving instructions and an online tutorial. You are also invited to pick up a pencil and have a go with the free sample puzzles below.

A customer says:
Best ever puzzles! They keep me company in my work break, when I rest, in bedtime, in good and bad weather!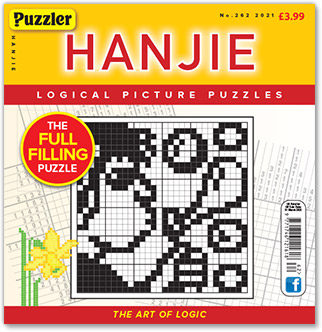 Kakuro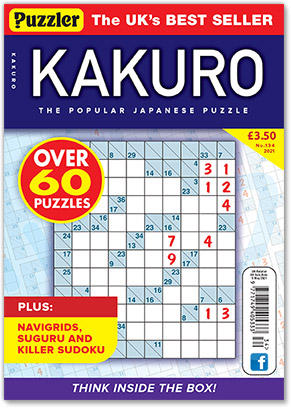 Kakuro
is a delightful number-based puzzle that requires the use of simple addition, but you don't need to be good at maths to solve the puzzles. It's the placing of the digits that counts! The puzzles come in a range of different grid sizes, so you can choose the puzzle that suits the time available to you.

The Editor says:
Kakuro is a fascinating number-based puzzle. In each issue the quick-fire puzzles at the start of the magazine are perfect for beginners, or to occupy that spare couple of minutes waiting for the kettle to boil. Then you can move onto the larger grids towards the back, which will challenge and stretch your thinking. Can you Kakuro? Yes, you can!
Super Hanjie
Super Hanjie magazine is Hanjie's big brother! Guaranteed to give many hours of puzzling pleasure to those who like a larger challenge and want to see the bigger picture. The larger grid sizes produce pictures that have more detail and visual appeal; for example, it is possible to create a very good likeness of a famous building or person, as well as the standard scenes from everyday life and nature. No trial and error is needed, but the harder puzzles can be challenging, requiring you to spot just where a logical deduction can be made.
The Editor says:
For nearly 20 years, Super has been the big brother to Hanjie – offering the same puzzling experience as Hanjie but with larger grids giving more solving and more detailed pictures. It, too, has a dedicated following who not only enjoy the Hanjie experience but also the pleasure of solving some two-colour puzzles, as well as Labyrinth and In The Loop puzzles, both unique to Puzzler Media. This sumo-sized magazine guarantees many, many hours of thought-provoking puzzles.

A customer says:
Super Hanjie is the best logic puzzle ever!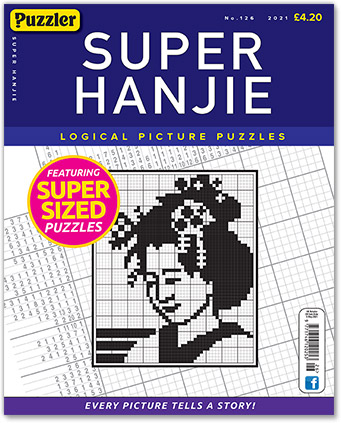 Try these FREE sample puzzles of Super Hanjie.
Simply download and print!


Your Free Puzzles!
*Offer Terms & Conditions: 3 issues for £3 is a UK offer for new Direct Debit subscribers only. After the 3 issues for £3, customers pay: Beyond Sudoku: 3 issues for £3, then an ongoing rate of £15.10 every 4 issues, saving 10%. Full 8-issue UK annual rate: £33.60. Kakuro: 3 issues for £3, then an ongoing rate of £12.60 every 4 issues, saving 10%. Full 8-issue UK annual rate: £28. Hanjie: 3 issues for £3, then an ongoing rate of £21.50 every 6 issues, saving 10%. Full 13-issue UK annual rate: £51.87. Super Hanjie: 3 issues for £3, then an ongoing rate of £15.10 every 4 issues, saving 10%. Full 8-issue UK annual rate: £33.60. Offer closes: 30 April 2021.