Introducing Puzzler Kids' Collection
Puzzler Kids' Collection is our brand-new puzzle magazine for kids! Building on all the best features of our former Puzzler Quiz Kids magazine, it stays true to the idea of creating puzzles that kids will enjoy but has been brought bang up to date. Kids can get their hands on Puzzler Kids' Collection and discover over 160 mega-fun new puzzles, plus great prizes to be won.
Inside every jam-packed, full-colour issue are puzzles on topics that kids can really engage with, while entering cool competitions to win awesome prizes from exciting brands.
The most popular puzzle types all are all here, including Wordsearch, Sudoku, Crossword, Mini Maths Challenge, Maze, Kriss Kross, Spot the Difference, Picture Arroword and Dot-to-Dot – with extra fun facts, codes, jokes and cartoons.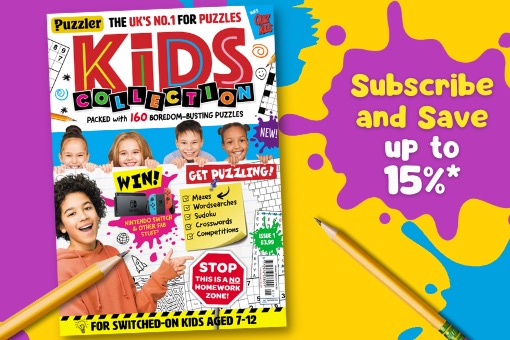 Kids will love:
✏️ 160 boredom-busting puzzles in every issue
✏️ Fabulous homework-free fun
✏️ Great prizes to be won
✏️ A huge variety of colourful puzzles
Take a look inside this brand-new mag 👀👇
Sound good? If you know a switched-on 7-to-12-year-old that would LOVE Puzzler Kids' Collection, subscribe today! The special introductory offer is now closed but a subscription will ensure a regular delivery of fun puzzles and fabulous prizes direct to their door.