Hanjie Magazine – Meet The Editor
Meet Steve, the editor of Hanjie magazine

The editor of Hanjie, Steve, explains what it's like to be in charge of this pixel-perfect puzzle magazine, and shares his top solving tip. And don't miss our fabulous subscription offer below to try 3 issues for £3!*
Look Inside The Mag!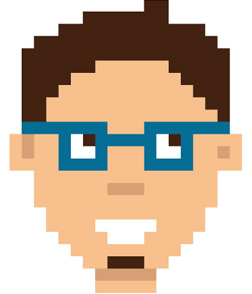 When did you first start solving puzzles?
As far back as I can remember, I've enjoyed puzzles and board games. Even at a tender single-digit age, I was fascinated by the idea that someone somewhere had asked, 'Can you do this?' and always had the urge to prove that I could. And every now and then, a magazine called Puzzler would appear and I would simultaneously indulge myself with its contents and annoy the person who had bought it.
But it was in my early teens that the obsession with puzzles was cemented. My father – no doubt of the opinion that my vocabulary, spelling and lateral thinking could all do with a good shake-up – tried to get me interested in the crossword on the back of the morning paper. What he didn't expect to do was ignite a daily race for the newspaper that would end only when I left home for university and had to buy my own.
What do you like about Hanjie puzzles and do you have any tips for solvers?
Like all logical puzzle solvers, the Hanjie solver is faced with a problem for which there appears to be scant information; the number of clues given seems clearly insufficient to reach the answer. But by careful sifting of what you've been given, the answer will slowly reveal itself and, in the case of Hanjie puzzles, quite literally reveal itself in the shape of a picture. It's not magic, but it's not far off.
In my experience the greatest satisfaction with any puzzle is the 'Ah, I see!' moment when, after having been stuck for a while, you find the way forward and Hanjie puzzles provide those moments in greater number than any other. So, for solvers, new or old, the answer is always perseverance. Keep looking around the grid and something, somewhere, will become clear – the longer you look, the greater the 'Ah, I see!' satisfaction.
Why do you recommend a subscription?
It saves money, secures your regular issue and is delivered to your doorstep – what more could you want? But don't take my word for it; try it for yourself with the offer below. Three issues for less than the price of a morning coffee: that's got to be a bargain.
What do you like to do in your spare time?
I've always been a sporty type. In my younger years I played rugby, football, tennis and squash but these days, although I like to keep fit, I make do with watching. I still play the odd game of golf – very odd, according to my less than supportive playing companions
I like tinkering with car engines – the old-fashioned versions. The new machines with batteries and souped-up washing-machine motors are brilliant machines and are certainly part of the answer in our battle with climate change, but they leave little scope for someone with a box of spanners and an oily rag to play at being a mechanic. Apart from that I like to read, watch old movies and knock out a few tunes on my old guitar. And, even after all these years, I still like tackling the puzzle on the back of the daily paper.
Special introductory offer: Try 3 issues for just £3!*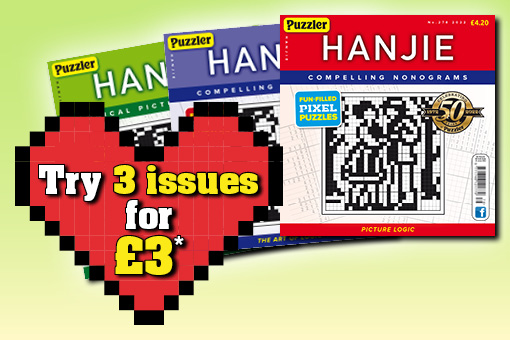 Five great reasons to subscribe to Hanjie magazine:
❤️ Enjoy an assortment of 45 picture puzzles in each issue
❤️ Try 3 issues for £3, saving over 65%*
❤️ Never miss an issue
❤️ FREE UK delivery, direct to your door
❤️ Money-back guarantee on any unsent issues
To enjoy 3 issues for £3*, use promo code MTEHA before adding the magazine to your basket.
Hurry – offer ends 30 June 2022!
*Terms and conditions: 3 issues of Hanjie magazine for £3 is a UK Direct Debit offer for new subscribers only. Pay £3 for 3 issues (saving over 65%) with Direct Debit, then an ongoing rate of £22.60 every 6 issues, saving 10%. Full 13-issue UK annual rate: £54.60. Offer closes: 30 June 2022.